Main areas of business
Transforming Work,
Transforming Learning
and Transforming Communities
From 2020 onward, Uchida Yoko will pursue the creation of new value in order to realize Society 5.0.
Creation of Group Synergy to Promote the Reformation of
"Styles of Working,""Educational Systems" and
"City Development Systems"
The Uchida Yoko Group, as a whole, will reconstruct its core businesses to extend beyond its traditional segment to serve the new social needs that will arise from the changes in the social/industrial structures that are expected to take place after 2020, by using its unique business platform that is built on its relationships with various clients that have been cultivated through 110 years of history, and the balanced business portfolio which includes ICT and environmental fields, encompassing both private and public sectors.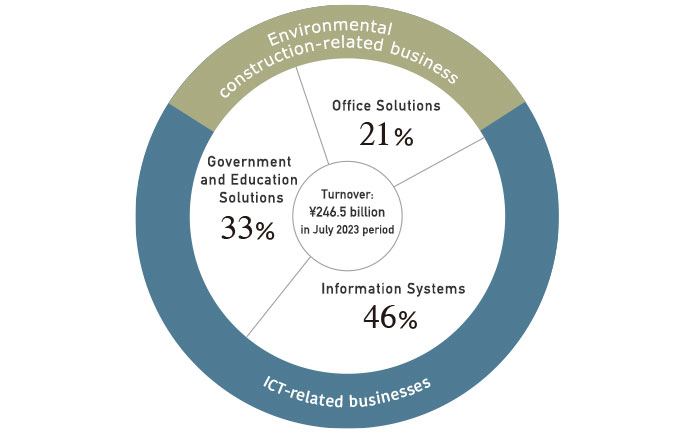 Environmental construction-related business, etc.
40%
Private market

overseas document related
Document & ECO solution
Digital finisher
Hobby, craft and stationery products
Private market

listed companies, global companies, etc.
Planning and development of office furniture
Office space design, development and transfer service
"Work style reformation" consulting service
Educational market

elementary & middle schools
Educational devices
Mail order business for schools
Educational, public market

schools, public facilities, etc.
School facilities
Creation of offices for public-use facilities and national/local government agencies
University-oriented consulting services and creation of education environments
ICT-related businesses
60%
Private market

listed companies, global companies, etc.
IT infrastructure development & cloud implementation support
Software managed services
Information technology (IT) asset management services
Smart building solution
Private market

Industries including food, logistics, construction, etc.
ERP package by industry
Educational market

board of education for elementary, middle, high schools and universities
Educational ICT
University ICT
Government agencies and municipalities market

ministries, municipalities, libraries, welfare
ICT solution for government agencies and municipalities
Welfare business service
Library ICT